Restaurant, Kastav - Croatia
Sobe - Camere - Zimmer - Rooms
Brestovice 6
51215 Kastav
Croatia
Tel. +385.51.224 308
Fax. +385.51.687 640
info@villamira.hr
www.villamira.hr
GPS: 14°21´10,0" E
45°21´33,3" N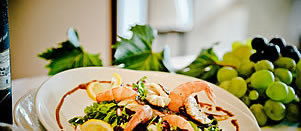 Restaurant
You can enjoy a variety of fish and meat specialties, including dishes prepared under the baking lid in the traditional way, spit-roasted or grilled dishes at the Villa Mira's restaurant. Our dining room can host 150 guests, whilst our two beautiful terraces shaded by the surrounding vegetation can host a further 50 guests.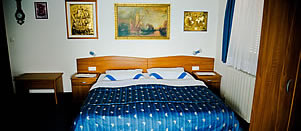 Rooms
On the upper floor there are 11 comfortable hotel rooms with a view over the beautiful Kvarner Bay as well as over the islands of Krk and Cres. We have a total of 26 beds arranged in 4 triple and 7 double rooms. All rooms have central heating, air conditioning, a balcony as well as satellite TV.
The view is breathtaking; you will also find a warm welcome, quality accommodation and a modern approach to homemade specialties. These are our distinguishing qualities. Our doors are open.
WELCOME !